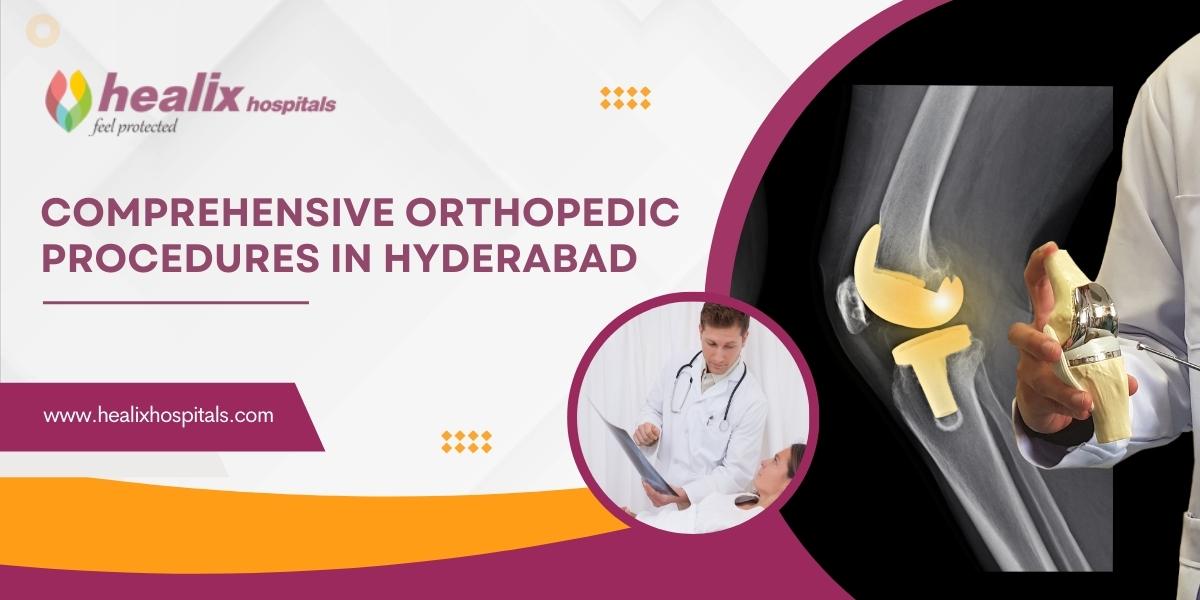 Finding the best facilities and care for Orthopedic Procedures in Hyderabad can be painstaking. With several clinics and hospitals claiming top-notch services, it gets confusing and hard to decide. So, how would you find the best services in Hyderabad for Orthopedic surgery? This article aims to provide a detailed description of orthopedic procedures, tips to find, and different surgery options to know.
What to look for and how to find the best services
Getting Comprehensive Orthopedic Care can be hard to find, though not impossible. When searching for the best orthopedic services in Hyderabad or any other region, consider the following key factors:
Expertise and Experience: Look for clinics or hospitals with reputed, expert orthopedic surgeons who have spent significant time in this field and have been involved in performing a wide range of procedures.
Infrastructure and Technology: They should have good infrastructure and be equipped with advanced surgical technologies. Such things can make surgeries successful and comfortable for the patient.
Comprehensive Approach: Select the one that provides holistic orthopedic care, from diagnosis and treatment to post-surgery care.
Reviews and Testimonials: Check patient reviews and testimonials, as they can help you know the quality of their services.
Orthopedic Procedures for different parts
Orthopedic surgery has proven to be helpful. It can help individuals get rid of the pain and cure the symptoms. It can be performed on various parts of the body.
Joint replacement
Joint replacement surgery can be called one of the most extreme treatments. It's been effective for degenerative joint conditions. However, joint replacement procedures must be performed with precision and expertise. Or it may worsen the condition, affecting one's health.
Total hip
For severe hip pain or conditions like arthritis, hip fractures, or avascular necrosis, total hip replacement is recommended by surgeons. During this, a prosthetic implant is replaced in the damaged hip joint. Usually, it consists of a metal ball and socket, helping reduce pain, restore joint function, and enhance overall mobility.
Ankle
Ankle replacement surgery cures conditions, including arthritis and other injuries. It involves removing damaged parts of the ankle joint and replacing them with metal-made artificial joints. It has been found helpful in reducing pain and improving patients' mobility.
Minimally invasive knee replacement surgery
However, unlike traditional surgeries, this involves smaller incisions to treat the joint conditions while ensuring minimum damage to other parts. In addition, it costs less and offers a faster recovery rate than other procedures.
Spine Surgery
Spine surgery is performed when it comes to managing spinal conditions, providing relief from pain, and improving spinal function. However, depending on the individual's condition, there can be several types of surgeries for the spine, including:
Disc Surgery
Especially in old age, people are likely to suffer from spinal disc-related issues, such as herniation. Disc surgery may be recommended when other treatments fail to deal with symptoms. It may involve spinal fusion or discectomy. This varies from person to person, depending on their specific condition.
Surgery for replacement of spine deformities
Spinal deformities, such as scoliosis or kyphosis, can affect the quality of life. Different surgical techniques are used, like spinal fusion, implanting spinal instruments (rods, screws, and plates), etc. Such surgical techniques can help achieve optimal results.
Microsurgery for disc
Disc-related problems, like spinal stenosis or herniation, are addressed using microsurgery. It is a minimally invasive technique that involves making small incisions and using specialized instruments, such as microscopes and microsurgical tools thus, minimizing tissue damage, offering faster recovery, and reducing pain.
Arthroscopic surgery
Arthroscopic surgery is a minimally invasive surgical technique for diagnosing and treating joint conditions. What differentiates it from the rest is the use of small cameras called an 'arthroscope' through small incisions into the joint areas. The 'arthroscope' transmits real-time images of those areas, helping surgeons to assess the condition precisely and effectively.
Arthroscopic surgery is usually for knee, shoulder, wrist, ankle, and hip joints. Depending on the conditions, the patient may need to remove damaged ligaments, loose fragments or cartilage, smooth rough areas, or trim a torn meniscus. Additionally, inflamed synovial tissue is also treated using the same procedure. Unlike open surgery, it offers several benefits, including reduced pain and a shorter time for recovery.
Conclusion
For comprehensive orthopedic procedures, Hyderabad can be a leading place for quality medical services. Getting the best care is challenging. However, considering factors like expertise, experience, infrastructure, and patient reviews should help determine whether the claimed hospitals or clinics can take care of our specific needs. With a wide variety of surgical options available, including joint replacements, spine surgeries, and arthroscopic procedures, there are possibilities for a better quality of life.
With a strong commitment to excellence, state-of-the-art facilities, and a team of highly skilled healthcare professionals, Healix Hospitals has earned a reputation as a trusted healthcare provider in the region. Healix Hospitals strives to deliver healthcare excellence to individuals in Madinaguda and surrounding areas. With its commitment to providing compassionate care and achieving optimal patient outcomes, Healix Hospitals continues to be a trusted destination for healthcare services.
Disclaimer: The information provided in this blog is for educational and informational purposes only. It is not a substitute for professional medical advice, diagnosis, or treatment. Always seek the advice of your physician or qualified healthcare provider with any questions you may have regarding a medical condition.