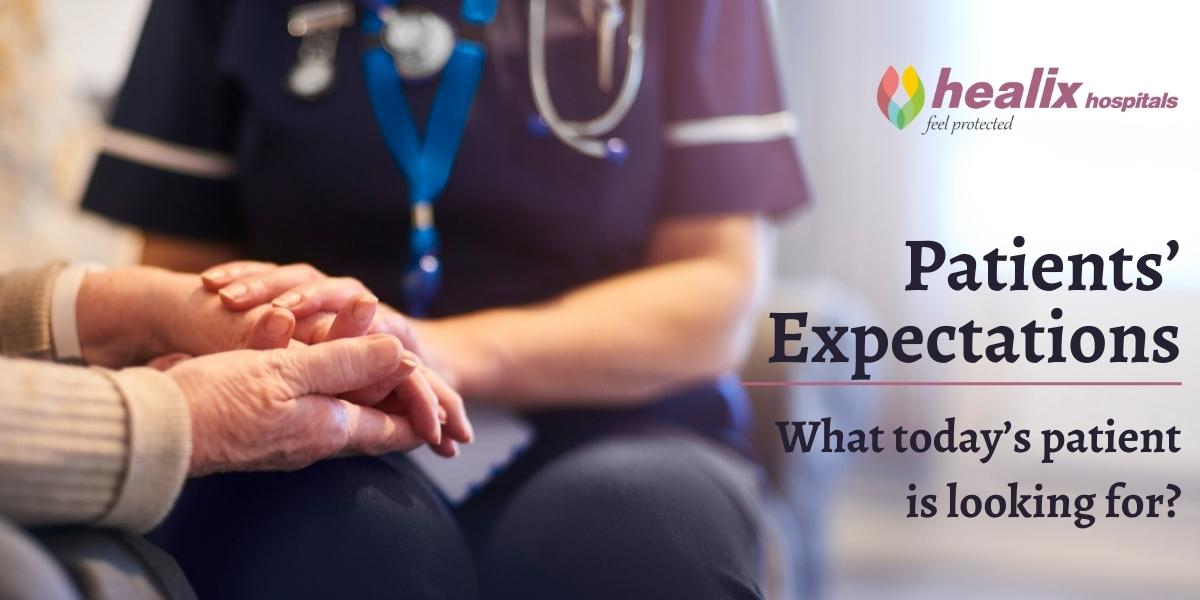 It isn't unusual for patients to rate you low on satisfaction levels due to their unmet expectations in terms of quality, output or recovery. The reasons could be many starting right from the experience with the reception staff of the hospital, to interdepartmental accessibility, hospital policies, long waiting hours, doctor unavailability, unpredictable expenses and communication gap. Unclear or inadequate information related to the disease added to high stress levels would only add onto the level of dissatisfaction.
80 % diseases are the chronic diseases like cancer, stroke and heart diseases where the chances of recovery are meagre. And most of the times the chances of cure and the time duration is completely unpredictable. In addition, it only gets harder to gain back the trust of any patient who had bitter experience previously. Therefore, it's extremely important to set realistic expectations considering the patient background, health, education levels, culture and lifestyle to create a comprehensive healthcare package to meet patient expectations.
Here are some reasons why meeting patient expectations is important:
? Today patients have a choice. They always have an option to switch to switch to another service provider.
? A satisfied patient leads to better references and many more accommodating patients.
? A happy patient turns into a loyal customer generating further leads which is the bottom-line of any operations.
How to establish realistic patient expectations
Here are six practical ways you can communicate realistic recovery expectations to patients:
Accessibility and Availability:
With the emerging growth in healthcare needs it has become essential to offer impeccable services to patients. Attracting and retaining patients begins with the understanding of how and where you are losing them. And proximity of your clinic and its virtual reach is a primary factor that determines its quality. Making the services accessible to patients across the globe, easing the appointment processes, treatment and payment formalities, making the investigation reports available on time and being available on one click helps win the trust of patients and families.
Improved Healthcare Affordability:
Healthcare affordability or financial access is another prime factors measuring a patients satisfaction levels. While studies state that around 85% of Indian population does not have health insurance, they end up expending lumpsum amount on medical expenses, which is higher than their annual income. They resort to picking loans or selling properties to meet the medical expenses. Then there are those who can afford high-end treatment and seek better facilities abroad. Measures to clear such disparities at least for critical cases will relieve patients from distress and dissatisfaction.
Establishing a good rapport:
Open and honest communication makes patients life much easier. Reassuring the patients that you will be available to clear any questions and concerns would take you miles ahead in terms of patient satisfaction.
Dignity, Respect and Compassion:
Indian healthcare system is provider dominated. There are various touch points, and it is less likely that patient will get dignity and respect at each point. Respect, compassion, safe and effective treatment plays an important role.
Attention to Physical and Environmental needs:
Here healthcare provider needs to focus on psychological support, value added services and not only core medical treatment. Emotional support, empathy, and respect, smooth transitions add comfort to the patient and his relatives
Participation in Treatment Decision:
Healthcare is a knowledge biased industry, customer/patients has to trust providers decision. Changing scenario might not allow the provider to involve people, their families and their carers' in shared decision making about their health. Providers need to take account of peoples' preferences and values too.